LINDE SPARE PARTS FOR FORKLIFTS
Load lifting mechanisms exist since ancient times. They have significantly perfected with the development of mechanics, which resulted in devices that could not only lift, but also move cargoes. A platform driven by an electric motor and designed to operate on Pennsylvania railway stations is considered the precursor of the first loader. Its production was launched in 1906.
Fourteen years later, in 1920, a few companies started manufacturing forklifts, and along with other modifications there appeared machines to operate within the warehouses.
Today, dozens of global companies produce warehouse loading equipment, using the latest design technologies.
Linde Material Handling, the German company, is among three leaders of the forklift manufacturers, and its products are the most demanded. Linde owns 10 percent in the market of the globally sold forklifts.
Linde loading equipment models and series are extensive and varied, and they mostly satisfy consumers' needs. Linde Material Handling has developed and currently produces 85 models of lifting mechanisms, including 35 with an electric actuator and 50 models on diesel and gas engines.

Original spare parts for Linde forklifts
Company's resources allow developing and producing electric motors for forklifts at own production facilities, but diesel engines are procured from the Volkswagen automotive group. Moreover, Linde Material Handling has started producing innovative models of forklifts-robots, series Linde-MATIC. They are the first Linde machines, which replaced manual labor and allowed satisfying the growing demands for more rapid fulfilment of orders in the area of logistics.
All units and parts for Linde products are manufactured at their own plants, which allow introducing new technologies that enhance economic efficiency and machine capacity. All original spare parts for Linde forklifts, due to their unmatched quality, provide low maintenance cost for machines and increase service interval.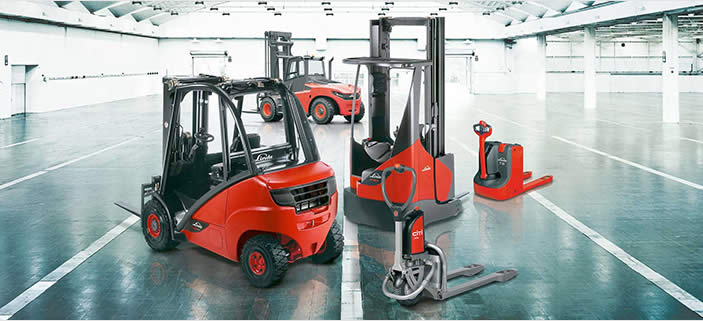 TechnikExpert offers Linde spare parts
Original spare parts for Linde forklifts have a direct impact on operating costs, performance, efficiency, and, above all, safety of the machine.
Breakdown of a forklift can lead to a failure of logistics operations, so the owners of the machinery pay great attention to availability of spare parts. Wearing parts and mechanisms are purchased in advance.
The German company TechnikExpert offers spare parts for Linde forklifts providing quality certificate for goods. In our store you can buy spare parts for all Linde forklifts models any modifications.
TechnikExpert guarantees customs clearance for goods within the framework of current legislation, and will deliver goods as fast as it possible to the customs station in the country of the customer on DAP Incoterms 2010 terms.