ZF SPARE PARTS FOR AXIES AND MECHANICAL GEAR BOXES
The prove of the quality of any item is the time, and it is evaluated by consumers. Today, in the world market of machinery, consumers highly appreciate the quality of products with the logo ZF. The ZF Group car concern is a leader in the mechanical engineering industry. ZF transmissions (gearboxes), chassis, axles, gearboxes are installed on all types of special equipment, on cars of all classifications and purposes, ZF units are used in railway transport, ship machines, and even in aircraft construction.
High-quality ZF aggregates form the image not only of the concern, but also the image of the country! This is not a marketing slogan, but a statement of the infrequent for a commercial enterprise legal status. ZF is a state fund subordinated to the city of Friedrichshafen.

The main production facilities of the concern are ZF Friedrichshafen, ZF Passau and ZF Saarbrücken, located in three German cities: Friedrichshafen, Passau and Saarbrücken.
Each plant has its own specialization: the first one manufactures ZF chassis and ZF gear boxes for trucks, the second one produces ZF gearboxes and the ZF axles for road construction machinery and buses, the third one produces ZF chassis and ZF transmissions for passenger cars.
As we see, the names of the divisions come from the name of the cities in which they are located, and the ZF abbreviation are the first letters of the phrase "Zahnrad Fabrik", which means "gear machine" in German.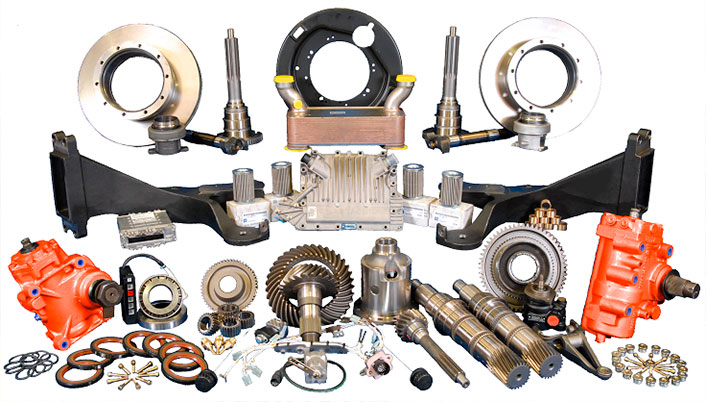 Original ZF parts
The ZF Group includes the so-called original еquipment manufacturers Lemforder, Boge, Steyr, Sachs, and others. These companies produce parts for the ZF units, the number of manufactured parts depends on the need for the spare parts.
Owners of equipment with ZF units know that only those ZF spare parts must be purchased that are produced by the manufacturers of the original ZF Group, since these spare parts are identical to those installed in the units.
Any machinery is profitable only when it operates without unscheduled downtime for repairs. Machinery requires routine technical maintenance and, if necessary, preventive maintenance to avoid this. Both in the first and second cases purchasing spare parts becomes necessary.
Offer by TechnikExpert
The German company TechnikExpert is the leading European supplier of spare parts for machinery, engines and units of globally renowned manufacturers.
TechnikExpert offers ZF parts and units for all types of equipment. Our online store offers spare parts for ZF gearbox, ZF chassis, ZF axle, and ZF gear.
TechnikExpert sells only original ZF parts.
We provide a certificate of origin of the goods, and our logistics specialists will help you to arrange the necessary documentation for freight shipment.
TechnikExpert guarantees the customs clearance of the goods in accordance with the current legislation, and will deliver the goods as quickly as possible to the customs office of the customer's country in compliance with DAP Incoterms 2010.