YANMAR SPARE PARTS FOR CONSTRUCTION MACHINERY
Initially, the main activity of the Japanese corporation YANMAR was the production of ICE (internal combustion engines), the first batch of engines was manufactured in 1912, this year is considered the year of the company's founding.
Historically, the progressive moment in the company's activity was the 23rd of December 1933, when the serial production of a diesel engine with a power output of 5-6 hp started. This engine was different from other engines due to its small size, which ensured its commercial competitiveness. In the subsequent development of the company, its compact diesel engine has become the brand-name product.
The R&D department of the company has been developing more new and innovative engine models, so in 1983 an air-cooled diesel engine was designed. Its most special feature was its size; it was the smallest engine in the world at that time. In 1987, the engineers have developed a unique outboard engine specially for boats, at the time, such engines were only manufactured by YANMAR.

Today, YANMAR diesel engines are used in all branches of human life, different models of engines are produced for agriculture, fishing industry, construction machinery and industrial equipment.
Since 1971, YANMAR has been producing mini excavators and a variety of agricultural machinery. All YANMAR machinery are equipped with a self-propelled engine.
YANMAR Inc. is an international concern with production facilities in different countries of the world. The company has about 15,000 employees and a turnover of more than $6 billion.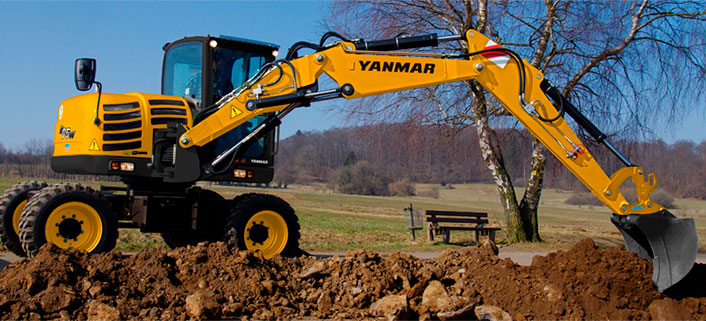 SPARE PARTS FOR YANMAR DIESEL ENGINES AND MACHINERY
As soon as the mechanical engineering appeared, the producers realized – spare parts should be manufactures in order machines sell. When machines are purchased, three main indicators are taken into account: performance, technical reliability and efficiency, and prices are formed based on these indicators. However, performance, reliability and efficiency depend on the availability of spare parts. You can make the most productive, most reliable machine, but just imagine that no spare parts are available for it. Nobody will buy such a car.
YANMAR Inc. pays great attention to the production of spare parts for its engines and machinery. YANMAR spare parts are the same as those that are used in assembly, they are manufactured according to the ISO 9001 quality standards.
The warranty department of the corporation strongly recommends to use only original YANMAR parts for repair, this is not only a recommendation, but a technical and operational requirement.
Owners of YANMAR machines know that spare parts are sold not by the corporation itself, but by mediator companies.
Offer by TechnikExpert
The German company TechnikExpert is the leading European supplier of high quality original spare parts for construction, road and agricultural machinery, as well as engines of globally renowned manufacturers.
Our online store offers original spare parts for any model of YANMAR diesel engine, as well as original spare parts for any model and modification of YANMAR excavator.
We provide a certificate of origin of the goods, and our logistics specialists will help you to arrange the necessary documentation for freight shipment.
TechnikExpert guarantees the customs clearance of the goods in accordance with the current legislation, and will deliver the goods as quickly as possible to the customs office of the customer's country in compliance with DAP Incoterms 2010.