ATLAS COPCO SPARE PARTS FOR MINING AND ROCK EXCAVATION
The history of Atlas Copco Groupstarted in 1873. It is believed that a Swedish businessman Edward Frenkel was the founder of the company, but, in fact, it was created in partnership with Johan W. Arnberg, Andre O. Wallenberg, Fredrik Didro and Karl G. Cervina.
Today the Atlas Copco Group is a global industrial company with many branches,manufacturing products on 100 production sites in 20 countries round the world. The trade and service network of the company covers 170 countries with more than 45,000 people employed. The company is headquartered in Nacka, Sweden. In 2016, global revenues totaled SEK 101 billion.
Atlas Copco is among the leaders in manufacturing of mining and tunneling equipment, including underground loaders, trucks, drilling rigs, drilling and miningequipment, ventilation systems and industrial tools.

Spare parts for Atlas Copcomining and tunnel equipment
Atlas Copco mining and tunnel equipment is operated in difficult conditions at maximum mechanical componentsloads. Equipment down time during breakdown is the main enemy of the production process, so spare parts for Atlas Copco mining and tunnel equipment are produced in the amount required for maintenance of machinery and equipment worldwide. Genuine Atlas Copco parts allow reducing operating costs and extend the equipment life. Moreover, the introduction of technical innovations with long-term perspective enabled us to design the Atlas Copco equipment with interchangeable units.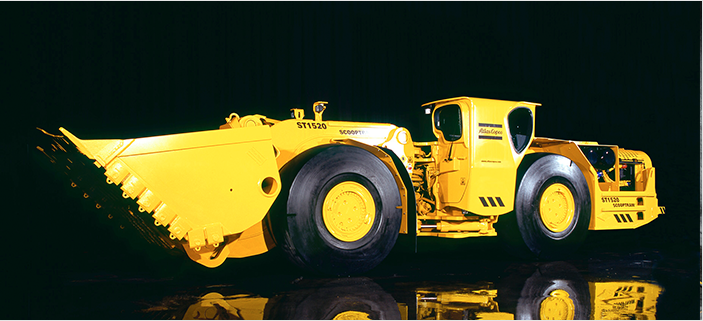 Technik Expert offers
Technik Expert offers original spare parts for Atlas Copco mining and tunnel equipment with providing the Certificate of Origin.
TechnikExpert recommends the owners of the equipment to strictly adhere to the maintenance schedules and pay attention to the wear and tear of the parts and mechanisms to make an order in advance. We guarantee to send you the necessary parts and mechanisms in the shortest term, this will prevent the costly downtime of the equipment.
Cooperation with TechnikExpert will help you reduce the cost of ownership of the machinery and increase its stable performance.
Technik Expert guarantees customs clearance for goods in the framework of current legislation, and will quickly deliver goods to the customs station in the country of the customer on DAP Incoterms 2010 terms.